Book now
The Old Mill Hohentauern
The cottage is under reconstruction from May till December 2022. See You in our even more comfortable cottage in 2023 again!
Hohentauern cottage
The original Old Mill from the 15th century is our own family cottage in the mountain village of Hohentauern in Styria, which we offer for rent when we are not there ourselves. Hohentauern (1,270 m) lies in the mountain saddle of the Lower Tauern Mountains, and the surrounding mountains extend beyond 2,000 meters. You will have a view of the highest peak of Gr. Bösenstein (2,448 m) directly from the windows of the upper bedroom.
In summer, it is the central starting point for many mountain hikes, as well as lighter walks with children. In winter, Hohentauern offers a smaller ski resort for downhill skiing, cross-country skiing, a long tobbogan-run and many skialpin tours to the surrounding peaks. The cozy old cottage in the middle of the mountains has a unique atmosphere and is an ideal place not only for a week-long family holiday, but also for a spring or autumn weekend with friends in the Alps.
We can offer you also an accommodation for 8 people at the new Veselý Svišť Chalet in Lachtal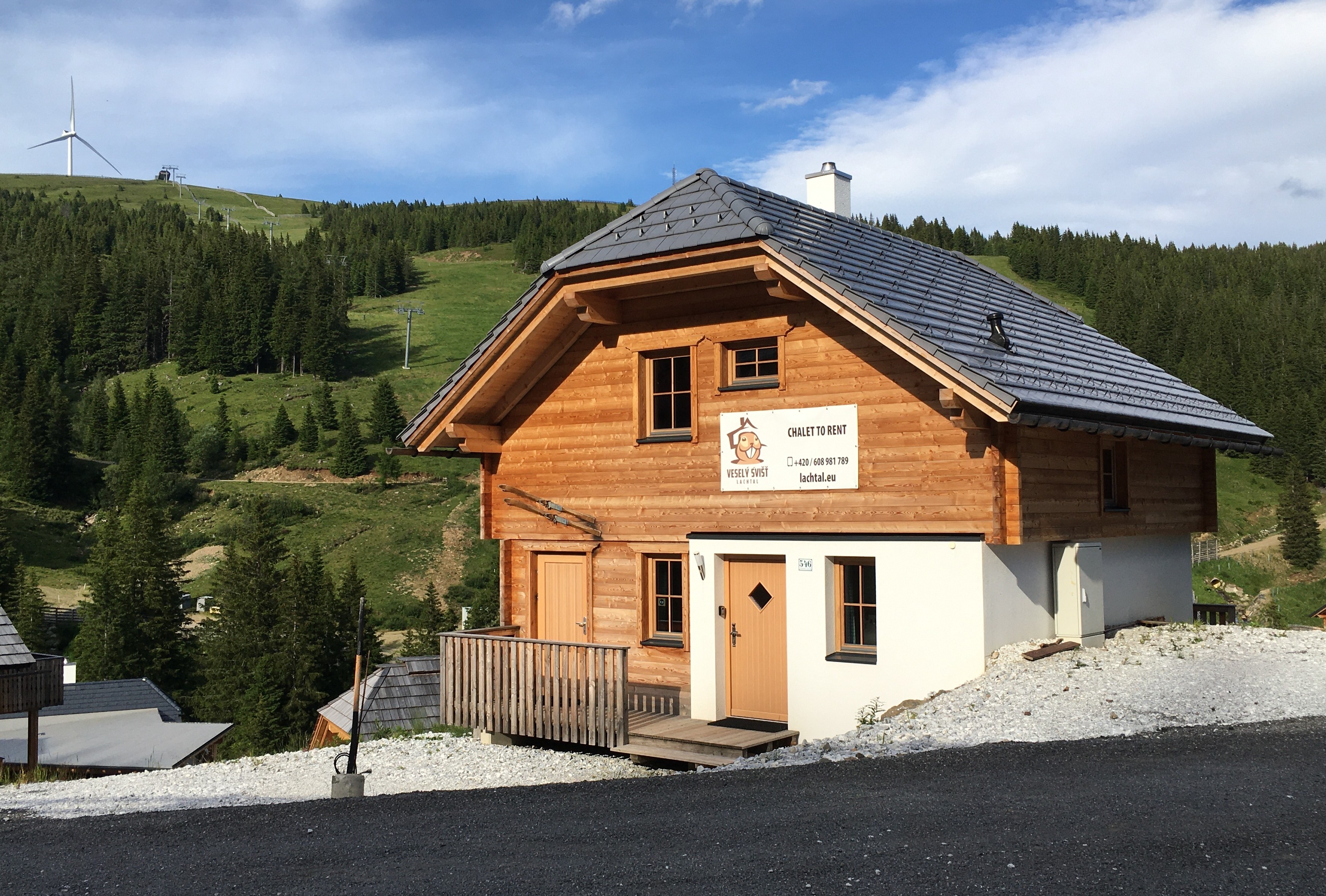 Veselý Svišť Chalet Lachtal
The new comfortable wooden Veselý Svišť (Cheerful Marmot) Chalet is situated at an altitude of 1,680 meters in the middle of the Lachtal ski resort in Styria. The year 2018 is our first season at Lachtal and everything in the chalet still smells of fresh wood. In winter, Veselý Svišť Chalet offers skiers the ideal accommodation in Lachtal directly at the blue 1a ski slope. The chalet is very comfortable especially for families with children, because there is no need for daily commuting by car - you can put on your skis right at the chalet and conveniently ski down to the modern 6-seater chairlift station.
In spring, summer and autumn, Lachtal is a great place for a family holiday in the Alps. In addition to the easy ridge hikes, you can go with the children to the generous rope park or the many beautiful outdoor swimming pools and other attractions in the Murtal Valley region. If you bring bikes, we recommend taking a nice trip along the Mur Cycling Path.
Check the Veselý Svišť Chalet Lachtal